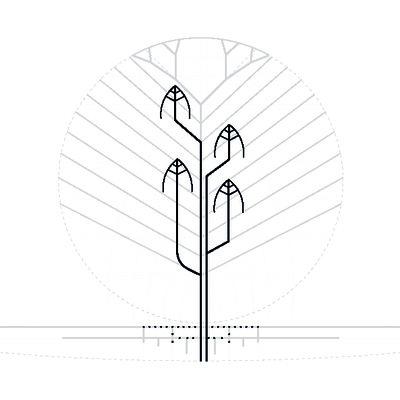 Tree Language v1: Manual Translation
This language for drawing trees seeks to represent, in a single drawing, the potential growth of the tree according to the climatic conditions of the site, its current state, and the tree architecture that corresponds to that species.
The life of a tree can be evaluated in terms of its morphological development over a series of stages, an idea that references horticulturalist Pierre Raimbault. The life of a tree begins by growing vertically, maintaining its form as it seeks height as its primary mechanism for gaining more sunlight. Unitarian trees (many conifers) continue to grow in this way throughout its life. Trees that grow in a modular way reach a stage (phase 6) at which they open their canopy and change their growth form. At this moment, the modular tree seeks light by reiteration in its branching to create more leaf density and grow outward.
In the final phases of the life of a modular tree, it begins a new type of reiteration, where new shoots begin in the interior of the canopy. These shoots behave like a new tree in its first phase — a new tree within an old one.