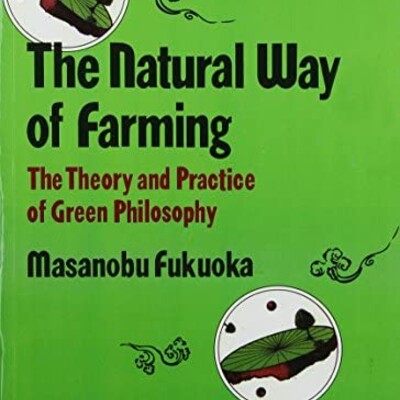 The Natural Way of Farming. Masanobu Fukuoka, 1985
FUKUOKA, Masanobu (1985). Natural Way of Farming: The Theory and Practice of Green Philosophy. Bookventure.
In this book, Fukuoka expands on his ideas and experiences of natural farming, a way of farming practiced and preached by Fukuoka in order to be more in step with nature than what he terms "scientific farming". This way of farming is broadly based in a less interventionist approach to agriculture. Fukuoka sets this out in five principles: no tilling, no fertilizing, no pesticides, no weeding and no pruning. His vision is towards a "restoration of nature", which he claims has been harmed by human knowledge and action throughout the ages. Although it contains many practical proposals for a different, more natural way of farming, Fukuoka's ultimate's proposal in this book is quite radical. As he claims that the interaction between nature and the human intellect has been harmful, he proposes to abandon the preoccupation of knowledge and action about nature, and to "return to nature and the side of God".