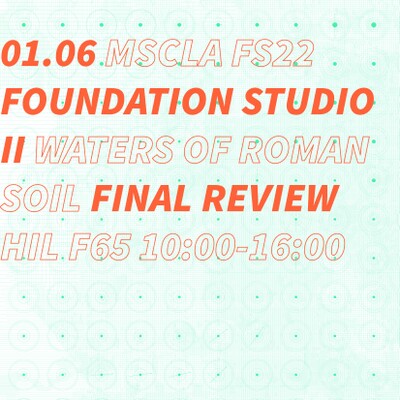 01.06.2022 | FS22 Waters of Roman Soil: Final Review
01 Jun 2022, 10:00-16:00 (CET) | HIL F 65, ETH Hönggerberg, Zürich.
Rome's identity is connected to its food, and the water needed to produce it. How will that identity evolve in the face of increasing water scarcity?
Final Review of the MScLA Foundation Studio II FS22: Waters of Roman Soil, with Nitin Bathla (ETH Zürich), Phoebe Lickwar (University of Texas), Annalisa Metta (Università Roma Tre) and Paola Sturla (Harvard GSD) as guest reviewers.
Teaching Team: Teresa Galí-Izard, Luke Harris, Zhao Ma, Cara Turett, Uxía Varela Expósito, Bonnie-Kate Walker.