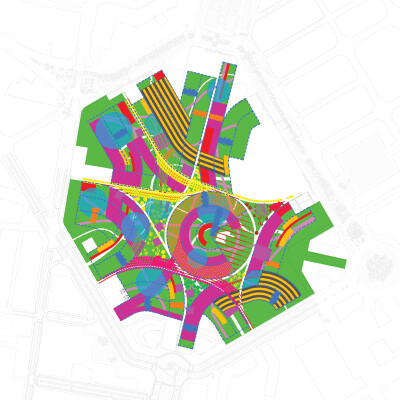 The Fields Around Us. Proposal for the Central Park of Valencia, Spain.
Finalist proposal in the competition for the Central Park in Valencia by ArquitecturaAgronomia (Teresa Galí-Izard + Jordi Nebot), FOA, AIC EQUIP and GPO.
"Valencia Central Park Competition is inspired by the concepts of "hardware" and "software". With this concept the hardware would be the physical place where events related to the dynamism of living materials take place. The software would be the programming of those events over the years.
A broad esplanade composed of a system of paths planted with trees for people to cross from one neighbourhood to another, would be the area where the events take place. A rule-based system originated in the efficiency and organization of infrastructures and management would define the possibilities od intervening over time.
The periodic introduction of living material would increase the number of species and the complexity of the living system over the years with the final goal being that everyday a different event related to the living materials would take place. From the blooming of a shrub, burning of the crops, irrigation of the grass; to the arrival of butterflies, this park would be fascinating all year round."