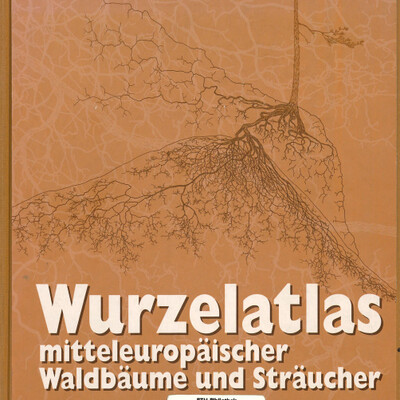 Wurzelatlas. Lore Kutschera, Erwin Lichtenegger, 2002.
Wurzelatlas. Mitteleuropäischer Waldbäume und Sträucher. Lore Kutschera, Erwin Lichtenegger: Stocker, 2002.
In this work, for the first time, the completely exposed root systems of 78 trees and shrubs are presented and described in 188 drawings and 1,200 colour pictures. This overall presentation is supplemented by an explanation of the anatomical root structure based on root sections. Previous root illustrations usually only describe the area close to the trunk, which can lead to false conclusions. The present representation also conveys the spatial distribution of the root mass and makes clear the effect of environmental influences on the root shape.
The extensive image material forms the basis for a general and a species-specific description and thus serves to explain the different site requirements of the species in more detail. From this, far-reaching conclusions can be drawn, e.g. for the successful and site-appropriate establishment and management of forest stands. Particularly noteworthy is the first comprehensive consideration of fine rooting and - associated with this - the clear presentation of the entire root spread.
A large set of these drawings developed by Lore Kutschera and Erwin Lichtenegger are available online