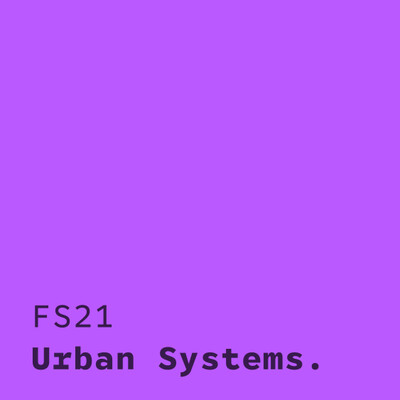 Urban Systems 21FS
Topography, climate and geology create potentials and constraints for the growth of cities around the world. The course is structured around core landscape systems, including water supply, water evac­uation, urban forests, maintenance and production. Through this partial and discipline-specific lens, the urban condition can be un­derstood as a series of overlapping systems that extend beyond municipal boundaries and into the territory. These systems have their own integrity and intelligence which is all too often ignored because the systems are only legible at a scale that exceeds the traditional landscape or architectural intervention. But regardless of scale, all modifications of the built environment affect these sys­tems in some way, either intentionally or unintentionally, with im­pacts large and small. These networks of water, energy and minerals physically link us as humans to the other living things with whom we share our urban milieu. Our modifications of these systems through the manipula­tion of water, the surface and the substrate contribute to the cre­ation of novel conditions for our neighbors. By conceiving of the city as an interlinked space that is shared between humans and other living things, we invite alternate ways of designing that no longer center our human needs at the expense of the others.
A series of lectures provided the tools to understand the land­scape systems that structure and traverse the urban condition. The lectures critically introduced a variety of contemporary projects that cross a range of scales and describe their relationship to the specific landscape systems in which they are embedded. Alongside the six lectures presented by the Chair there were five lectures given by guest experts who presented a specific topic in-depth. Together these provided a range of examples, theory and design approaches that we hope inspired the work of the students in Zürich.
In response to the lectures and discussions, each student developed a research and documented a specific urban system of Zürich. By looking closely at the conditions of cities around the world, students produced knowl­edge about the state of landscape systems close to home.