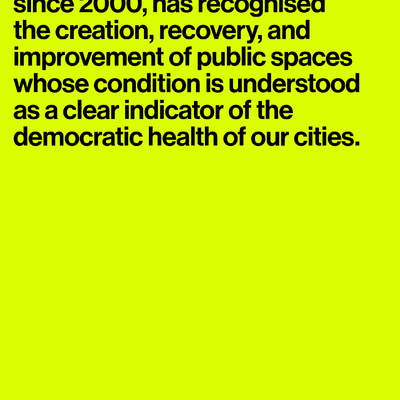 Prof. Teresa Galí-Izard, president of the Jury of the European Prize for Urban Public Space 2022
Prof. Teresa Galí-Izard will be part of the committee of selection of the European Prize for Urban Public Space 2022 as president of the Jury.
Today, the climate emergency or the crisis generated by the COVID-19 pandemic has transformed global agendas, has added more challenges to the current social problems in our cities and has become a central vector of urban thinking. Issues such as shortages, inequalities, mobility, migrations or emergencies place cities in front of challenges for which there are still no clear answers and which have a direct impact on urban design and public spaces, due to their clearly social or public function. In addition, the impact of technological transformations is an element that can also directly intervene in the urban realities of the surrounding area.
The Award aims to reflect the centrality of these issues and to become an observatory of good practices that will allow us to think of possible solutions for a future in which cities will play a key role in defining the evolution of society.
The presentation of candidatures is open until 17 May 2022. More details about the registration here.