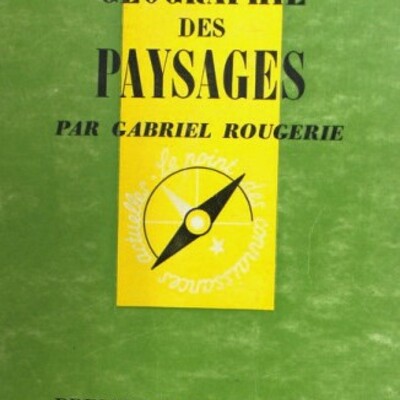 Géographie des paysages. Gabriel Rougerie, 1969.
Rougerie, G. (1969) Géographie des paysages. Editions Presses Universitaires de France.
"Dans la mesure où la géographie consiste à localiser des faits, à appréhender les différenciations de l'espace terrestre et à comparer des ensembles en décelant leur dynamisme interne et leurs relations réciproques, c'est bien être au cœur de cette science que de s'attacher à l'expression matérielle de ces différenciations : les paysages."
In Géographie des paysages, Gabriel Rougerie draws attention to the superficial, physical expression of geography, landscapes. He goes beyond the simple morphology of the landscape, the relief of the land, and seeks to explain the causal relationships between the different and diverse phenomena that form and explain a certain landscape. The geography of a landscape finds its explanation through its relief, climate, water, flora and fauna, human action… Rougerie goes on to explain landscapes in five environments: littoral, cold, middle latitudes, between tropics, and mountainous.