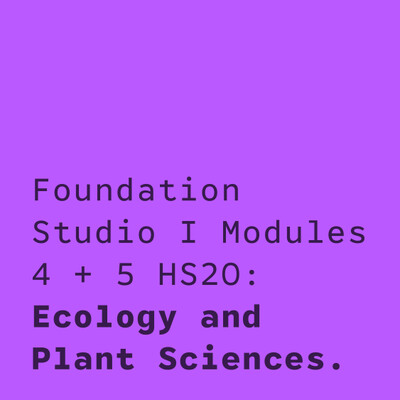 Foundation Studio I Modules 4 & 5 HS20: Ecology and Plant Sciences
Living systems such as soil, vegetation and hydrological networks form the backbone of the discipline of landscape architecture. These systems are not inert materials to be deployed at will but complex, living things that interrelate in ways that we can only grasp partially. As advocates for living systems, landscape architects must strive to understand them in their complexity. Ecology and related sciences provide an important lens through which to see the world, and it is essential to engage directly with ecological concepts in the sciences in order to be effective advocates and collaborators. But as generalists -- not specialists -- landscape architects must be able to synthesize disparate fields, isolated pieces of information and contradictions together in order to create a foundation on which to design. 
This fundamental course introduces ecology and plant sciences. Through lectures, exercises and excursions, students will gain a broad vision of the cutting-edge topics that are being researched and studied at the Department of Environmental Systems Science at ETH, Eawag, WSL and others. This will be the base for a future dialog between the field of landscape architecture and the field of sciences. 
Students acquire basic knowledge in ecology and plant sciences focusing on its application in the field of landscape architecture. The module will give students tools to understand temporal and physical scale, research methods, units of measurement, modes of representation and critical literature, all of which form the framework for the joint discourse. As an introduction to the field of living systems, the course starts with the history of ecology, followed by an introduction to general terrestrial ecology, plant systematics, taxonomy, evolutionary biology, and basic notions of landscape ecology. A more specific approach to Swiss ecologies will follow with a concentration on grassland systems, aquatic systems and forests. Finally, the course focuses on the specifics of tree structure and function, and plant physiology. 
Not only does an understanding of key concepts in ecology allow for conversations across disciplines, but it also provides a framework for understanding developments in the field of Landscape Architecture in the last several decades. Conversations around process, succession, change, management, and dynamics in landscape architecture are all rooted in the field of ecology. By going to the source of these ideas and engaging directly with scientists, the module prepares students to push these conversations further through design. 
Through the production of a series of drawings, students will develop a graphic language in order to integrate this scientific knowledge into design. Drawing is a way of synthesizing the information shared by the experts and translating that knowledge into a form that enables design. 
Lastly, the module is structured around a series of terms broken out into "Key Concepts," "Relationships/Processes" and "Units." These terms form a lexicon that the students will develop over the course of the module. Many terms will be repeated over the course of the lectures and take on new meanings in new contexts. Students are expected to build a basic understanding of these terms which will allow for greater precision in future collaborations with scientists.