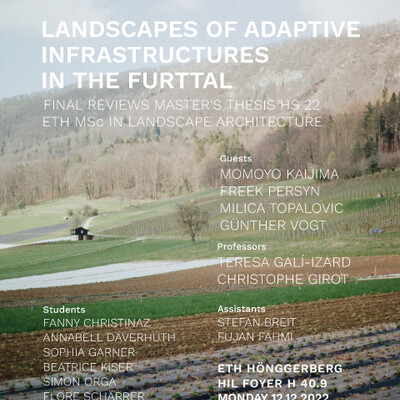 12.12.2022 | Final Review MScLA Diploma HS22: Adaptive Infrastructures in the Furttal
12 Dec 2022, 12:30 – 18:30 (CET) | ETH Hönggerberg, HIL Foyer H 40.9
During the first diploma of the ETH Master's Program in Landscape Architecture, we have explored the topic of "Adaptive Infrastructures in the Furttal".
Starting from a broad understanding of the term infrastructure, which ultimately encompasses public investments in a territory, we have opened the question to a larger scope of topics. Infrastructure as large function as a systemic event that has modified, is modifying, or will modify the behavior and metabolism of the territory in many different ways. Infrastructure is constantly evolving and has to be periodically adapted and rethought. Understanding the role of these systems in a territory in its past format will be an opportunity to rethink the existing ones and imagine the future in a more integrated way. 
Often the result of mere problem solving, infrastructure projects have difficulties living up to these ambitions. Bringing stability while acknowledging the messy vitality of society needs a prudent and sensitive approach. During this diploma project, we explore and activate the role landscape architecture and design can play in developing infrastructural investments that cherish life. 
Join us to celebrate bold and rigorous projects that challenge the infrastructure in the landscapes of the twenty-first century.