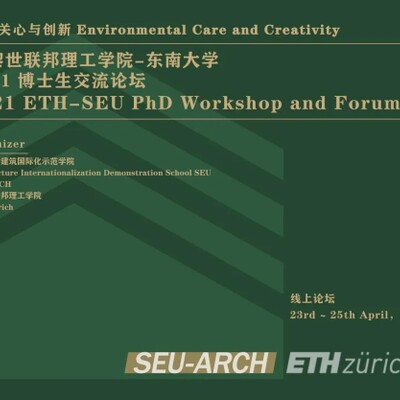 23.04.2021 | ETH-SEU PhD Workshop and Forum. Prof. Teresa Galí-Izard
23-25 April 2021 | ETH-SEU
Prof. Teresa Galí-Izard presents at the ETH_SEU PhD Workshop and Forum, responding to future of landscape architecture.
"QUESTION (by Philip Ursprung):
Landscape architecture is a rapidly growing field within the realm of architecture. Which are current trends in environmental care, and where is the space for creativity?
ANSWER:
This park is made by a system of infrastructures that increase the potential already existing in this site due to its climate and geology, and a system of additive management practices that promote the inclusion of all kinds of living creatures.
It is not built, however is made through a conversation, a dialogue. The design is a system of overlapped milieu which include humans and non-humans that step by step are invited to occupy the space.
To respond Philip question, I would do the question all the way around. How the field of architecture will be integrated in an ongoing conversation, which has been happening for years, between us, landscape architects and the fields that surrounds us? How will they embrace process, uncertainty, and the design of new relationships with the environment? How are they going to integrate other intelligences and open the field of design to other logics of thinking?
Landscape architecture has been always supported by the fields of engineers, social sciences, environmental sciences, ecology, biology, horticulture, gardening, agronomy, and even beaux-arts. Most of them have embedded a long-term vision of this idea of care, that Philip is asking for today. The most relevant landscape architects ever, Jacques Simon, Michel Desvignes, Catherine Mosbach, Michel Corajoud, Adrian Geuze, Michael Van Valkenburg, Gary Hilderbrand, Lawrence Halprin, Frederic Law Olmsted, Roberto Burle Max, Peter Joseph Lenne, where trained in one of this fields that care about the environment, and in the field of design.
How to continue this ongoing and established CONVERSATION, which is rich, equidistant, open, and messy? How to embrace new forms of knowledge and new technologies?
I am interested in a grounded and precise dialogue, which is what we are going to see here today. the challenges we are facing nowadays, are too big, and too complex, and exceed and surpass our own individual capacities. The only space for creativity, and the only exit is, in my opinion, an open, honest, equal, and generous conversation between the fields that care."