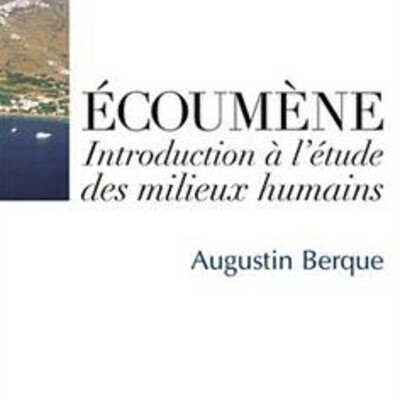 Écoumène: Introduction à l'étude des milieux humains. Augustin Berque, 2000.
Berque, A. (2000). Écoumène: Introduction à l'étude des milieux humains. Belin, Paris.
«Il manque à l'ontologie une géographie, et à la géographie une ontologie» 
With these words, Agustin Berque opens his essay "Écoumène", in which he proposes a new vision on human life in the world. This he calls écoumène, which is, in fact, the deep relationship between humanity and the world we inhabit in a physical, non-abstract way. In our current-day language, marked by distinct scientific disciplines, we would say that this relationship is multi-dimensional, in the way it is at the same time ecological, technical, and symbolic. Furthermore, Berque's écoumène is at the same time reciprocal, in the sense that "the place and the thing participate each in one another". In écoumène, the landscape and its inhabitants are inseparable by their natures, so that the landscape is so because it is inhabited by humanity and humanity because of the landscapes we inhabit.